by Emma Fischel
When Ned's parents split up, they split the house as well… with a WALL right down the middle. Mum lives one side, Dad lives the other – and Ned is definitely not happy about it.
You can find out more about Walls below. And, coming soon – some Walls activities and fun!
Ned's world is collapsing.
His mum and dad have split up. His best friend, Bill, has made other friends. And his new neighbour, Maddie Clodd, is possibly the most annoying girl in the WORLD.
But then, one night, Ned learns an astonishing new skill…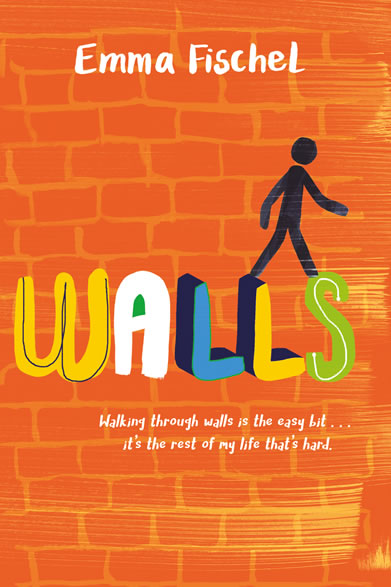 WALLBOGGLING!
Yes – Ned can walk through walls…
Can Ned wallboggle his way to a better life? A life where people behave how he wants? Will Ned use his wallboggling wisely and well? Or will things go HORRIBLY wrong…?
'It was impossible.
IMPOSSIBLE.
But it had just happened.
And then, standing there, staring, a thought thrilled right through me.
If my fists can go straight through that wall, and so can my foot – then, maybe, so can the REST of me.'
Cover artwork by the effervescent Sarah Darby